Maailman suurimman tervahaudan teko Kuhmossa
Tar
Kuhmo is one of the most famous tar producers in Finland and was one of the world's largest tar producers at the turn of the 19th and 20th centuries. The town not only nurtures its tar traditions, but tar is still manufactured for both traditional and modern uses. The smell of tar still wafts through the town from the boathouses to the restaurants.
Tar has an eminent position in the history of Kuhmo
Tar has been used for millennia to protect wood from rotting. In Finland, tar – or pine tar, for it is produced solely from pine – has been used as a protective agent for ships, boats, and roofs due to its exceptional properties. The tar burning trade was introduced to the Kuhmo and Kainuu region from Ostrobothnia (Western Finland) in the 18th century. Tar production expanded, becoming the main source of income in Kuhmo for about 150 years, until the early 20th century. The second half of the 19th century was marked by particularly intense tar production in Kuhmo, with an annual yield from burning pits greater than 6 million litres. The tar was transported on special tar-boats from Kuhmo to Oulu and sold to the town's tar burghers, that is, buyers and distributors of tar.
The story of tar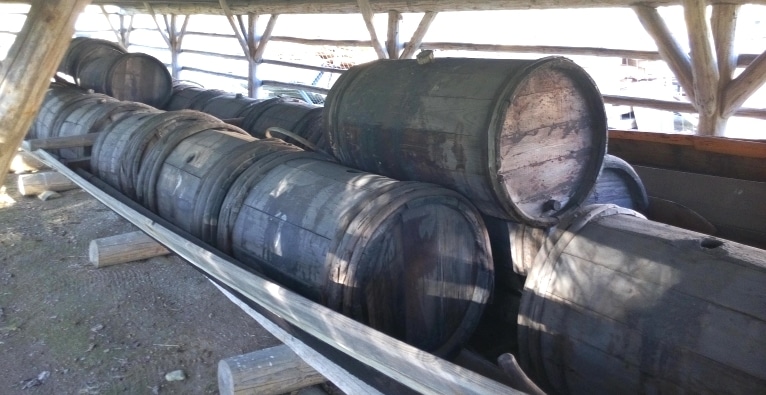 The importance of tar was substantial tothe development of Kuhmo during the intensive years of trading, and it has been said that tar brought civilisation to Kuhmo: in Oulu, tar rowers from Kuhmo were in contact with, for example, English tar buyers whose foreign goods like spices and fabrics were traded for tar and then sailed back home. As for cultural exchange, these encounters were noteworthy.
Producing tar is not the work of hurried people. The whole process takes about five years. It begins with the creation of a 'chipped wood stand' by peeling a stretch of about two metres of bark and phloem off the pines, excluding a narrow 'strip of life' left on the north side of the trees. As a result, the trees start to protect themselves by producing resin on their peeled trunks. Further peeling is done to the same trunks for three years in a row, and in the last year a final strip is cut. The trees die and begin to produce resin inside the tree. Having become resinous, the trees are felled no later than the end of the fifth summer and chopped into small firewood the following winter.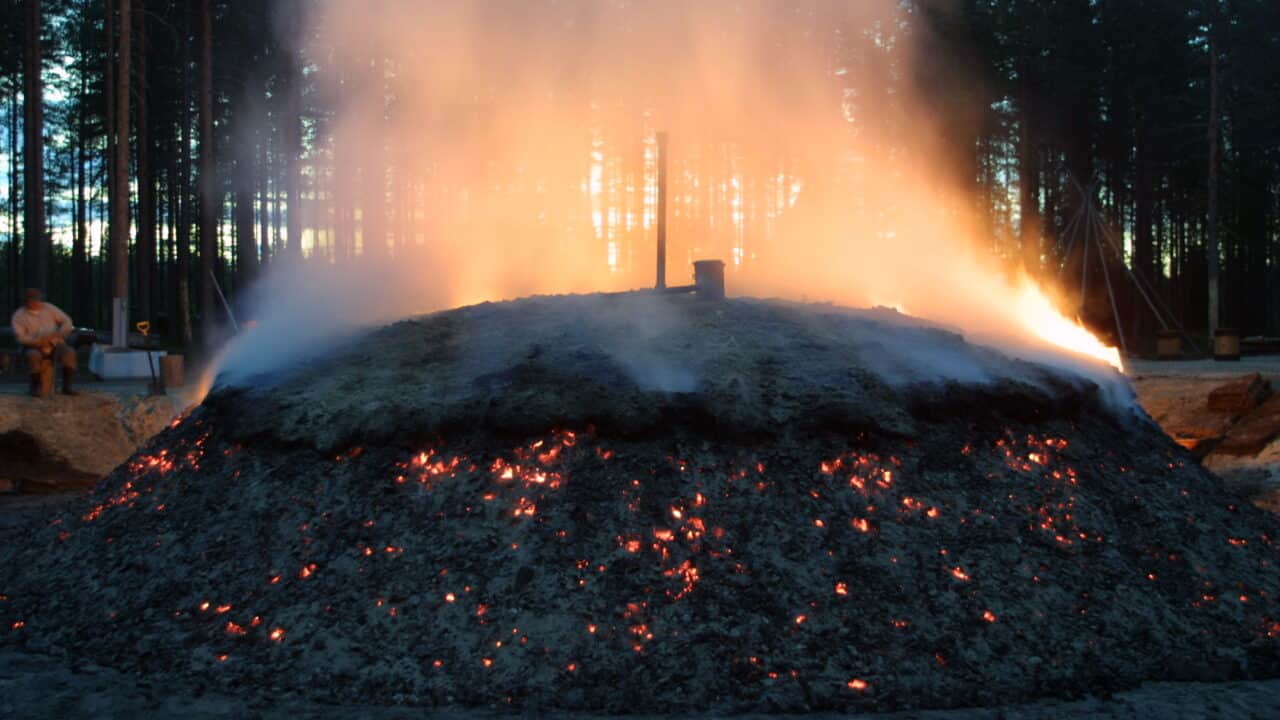 The following summer a tar pit is constructed, the chopped firewood is laid and the pit is covered with peat to control the burning. Under strict supervision, the tar pit is kept at slow burn, ensuring a smoulder so the tar can distillate.
The value of the tar is important as not only a wood protective agent, but it is also used in folk medicine and has been introduced as a flavouring substance, which in turn is used in foodstuff. Today tar is used in some skin care salves, too.